Our annual Fall Festival is just around the corner on October 14th!
You can buy your tickets and wristbands online at http://squareup.com/store/mapa. We will also be selling wristbands for the rides and tickets for the games the week of the festival October 10-13th before and after school at the front by the office. The wristbands are $7 pre-sale and $8 at the door. The tickets are 4 for a $1. Invite family, friends and neighbors to come join our fun!! Watch for your room parents email for volunteer sign ups. It's a great way to get your 40 hours.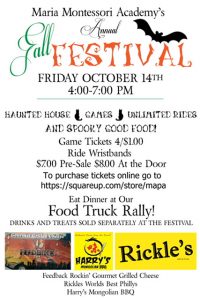 ---
Just a note from the Teacher Appreciation Committee!
Parent Teacher Conferences are coming up on October 17-19. Our teachers work so hard for our children and such long hours that get even longer during Parent Teacher Conferences! This committee serves the teachers dinners those 3 nights of conferences so they can recharge and have the energy to meet with each one of us! It's my favorite committee because our efforts go straight to saying "THANK YOU" to our wonderful teachers! If you've had a chance to serve them this way, you know how grateful they are! It's so fun! So, if you'd like an opportunity to give back a little to our great teachers, click on the wejoin link below to see what you can do to help on the Parent Teacher Conference Dinner sign up sheet! Thanks so much for your help!
https://www.wejoinin.com/sheets/nqpcn
Ronnie Simon
Jennifer Ouderkirk jenniferouderkirk@yahoo.com
(Teacher Appreciation Committee Co-chairs)
---
Upcoming Events!!
MAPA Meeting Friday, October 7 @8:45am
Fall Festival October 14
Teacher Appreciation Dinners October 17-19
Book Fair October 17-19
Box Top Store October 18
Red Ribbon Week October 24-28
Food Drive October 25-November 9
Chili Cook Off November 10
Gratitude Feast November 17