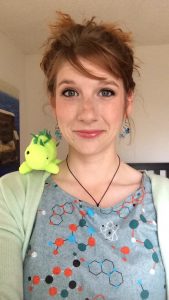 Hello, there!
My name is Laura Hughes, and I will be your child's teacher this year!  I am very excited to be a part of the MMA community.
I am originally from a little town in North Idaho.  After graduating from the University of Idaho with my BS in Environmental Science, I had the opportunity to work for the United States Forest Service doing various surveys on Spotted Owls.  I knew that my calling was education after I landed a variety of non-traditional educational jobs, from working as a ranger with the National Park Service to working as a tour guide with the San Diego Zoo Safari Park in Escondido, CA.  I also worked for three years as an instructor at High Trails Outdoor Science School, where I got to take 5th and 6th graders from Los Angeles and surrounding areas out into the forest to experience nature first hand.
Montessori came on my radar two years ago while working with a group of students from the Mission Bay Montessori Academy in San Diego, CA.  These students were some of the most independent, brilliant, and wonderful people I worked with during my time at High Trails.  They started me on a journey of Montessorian discovery.  The Montessori method matches perfectly with my background of outdoor and experiential education.   I am a certified AMS Upper and Lower Elementary teacher, and will graduate with my Master of Education in May of this year.  I am very excited for the opportunity to bring my unique background to the MMA community.
As you can probably guess, when I'm not teaching, I love to be outside.  I am involved in all sorts of outdoor activities from hiking to skiing to climbing to hula hooping!  When I'm not outside, you can find me knitting, playing Zelda, or reading whatever I can get my hands on.  I am obsessed with anything Harry Potter, I have a deep appreciation for all things considered "nerdy" and I hope to one day possess a Magic School Bus so I can fulfill my childhood dream of becoming Ms. Frizzle.
I am very excited for the opportunity to get to know your family.  Please feel free to contact me (lhughes@mariamontessoriacademy.org) with any questions, concerns, comments, or fun facts about yourself that you would like to share to help me get to know you!