Hello all!
This week is literacy week!  This year's theme is "Finding Peace Through Reading" We are looking at a week chalk full of activities! Our schedule looks like this:
Tomorrow night is Literacy Night!  Come in and join us! Dress up as your favorite book character and enjoy the evening!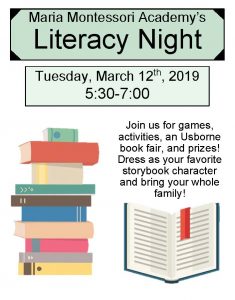 All week we will be doing book swaps.  Students can bring in gently used books that they are no longer interested in and swap them for a new book!
To encourage literacy at home and at school, students are encouraged to put the titles of books they have finished onto leaves and hang them in the hallway.
Friday will be our school wide read-a-thon.  Administration has asked for no pillows, blankets or stuffed animals to be brought in.
March at-a-glance:
3/14: Pi Day!  We will be working on Pi Based Activities all week – great talking point with your child!
3/15: Early Release (Professional Development)
3/17: St. Patrick's Day
3/18: NO SCHOOL (Professional Development)
3/20: Field Trip to Lantern House.  I DO need drivers/Chaperones.  Please contact myself or Alisha: eventhair@yahoo.com